About Us
What We Do
The Canadian Skin Patient Alliance (CSPA) is a national non-profit organization dedicated to advocating for, educating, and supporting Canadians affected by skin, hair, and nail conditions.
To achieve our mission:
Education and Raising Awareness
Too many skin patients suffer in silence. CSPA highlights the impacts of skin conditions in nationwide awareness campaigns. The goal of these campaigns is to create and share information that will lead to better understanding, earlier diagnosis, improved health outcomes and quality of life.
Explore our website to learn about specific conditions, how to access clinical trials, in-depth CSPA national reports, and how we advocate for your rights to care, treatments, and support through our (patient-focused) submissions to federal and provincial policy consultations.
Publications
CSPA also publishes the award-winning national Canadian Skin Magazine! We invite you to subscribe for a free copy and sign up for our newsletter to keep in touch with us.
Our Community
CSPA is a hub for all who deal with dermatology issues. At CSPA, we work closely with our Medical Advisory Board, the dermatology community, and our Affiliate Member organizations to provide you with knowledge and resources that we hope will ease your burden.
Strategic Plan
Annual Reports
The CSPA's fiscal year runs from July 1st to June 30th. Below are the annual reports highlighting the CSPA's activities as presented at our AGM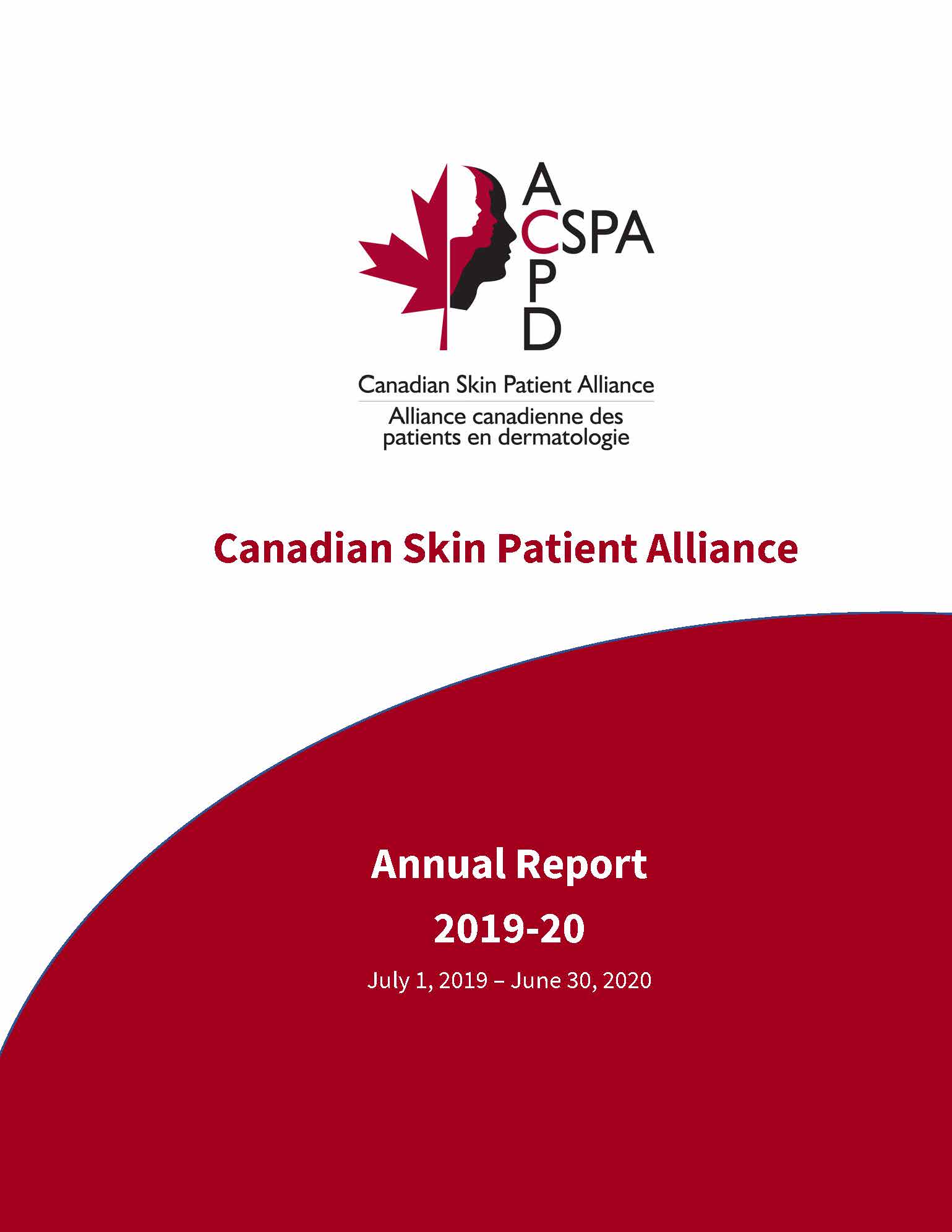 Past Reports
Volunteers
We salute all of our CSPA Volunteers during #National Volunteer Week and throughout the year.
You can also click here to see how YOU can Volunteer with CSPA.
Volunteer Recognition Week 2022
CSPA is proud to have a team of approximately 70 Volunteers! Click on each image to read more about the experiences of these volunteers.
Volunteer Recognition Previous Years
The Tanny Nadon Caregiver Award and Spotlight
THE LEGACY OF TANNY NADON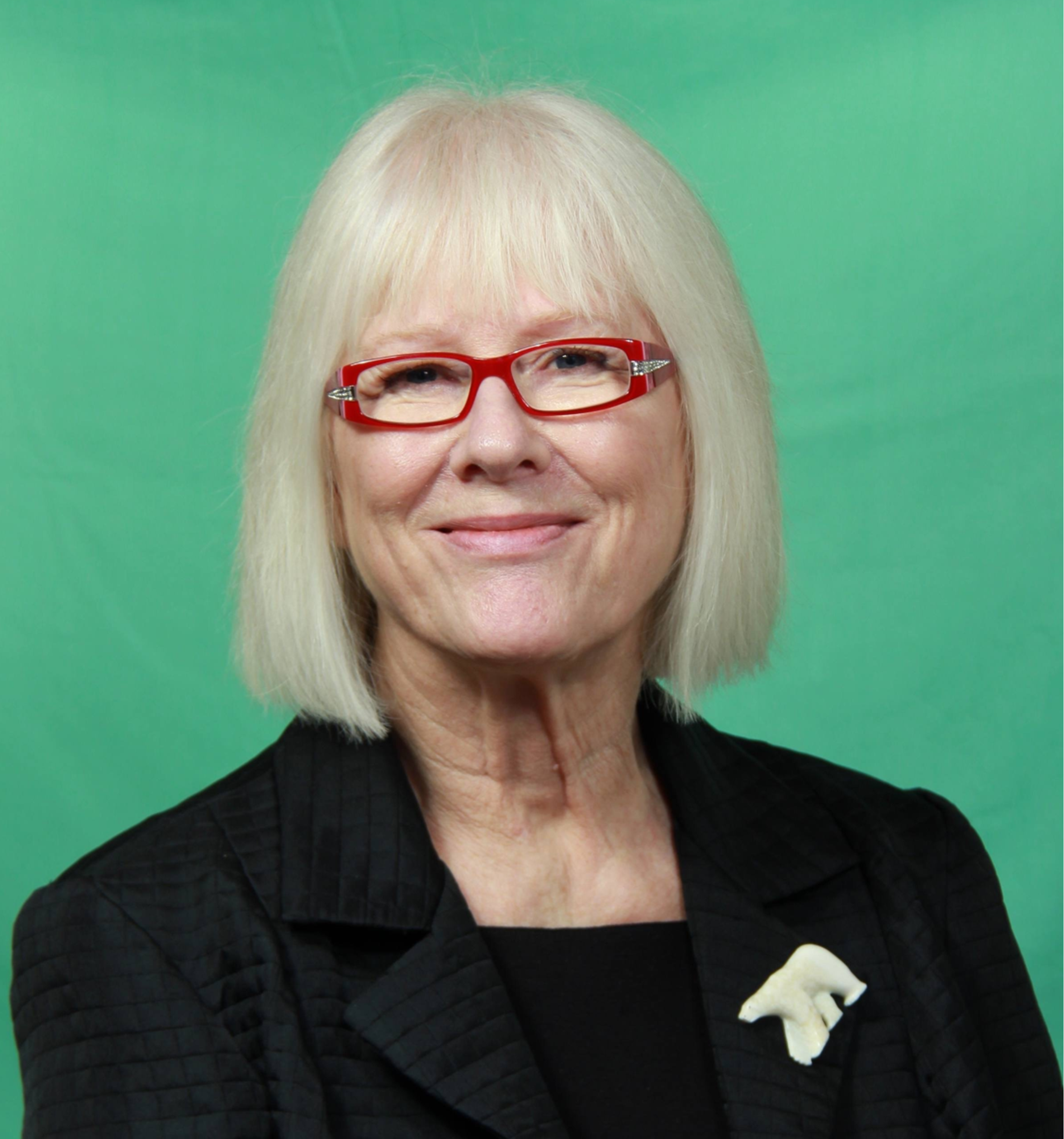 As a dedicated and selfless volunteer, Tanny Jean Nadon (1941-2016) inspired and connected with all whom she met. She was described as a true collaborator and team player who was always inclusive.
Tanny supported the Canadian Skin Patient Alliance (CSPA) since its early days. She was a founding member of the Alberta Society of Melanoma, which became one of the CSPA's first Affiliate Members, and was a devoted volunteer with the Canadian Cancer Action Network, the Cross Cancer Institute and other service organizations. Her vast volunteer experience provided invaluable counsel and led her to author CSPA's very first Application for Affiliate Organizations as well as the first Code of Ethics. Tanny was known to speak her mind and to be a voice of reason who helped build consensus at the discussion table. She was an innovative leader who worked hard behind the scenes and helped shape the CSPA in its formative years.
Tanny's ability to connect with and support others was welcomed by the Alberta dermatologist community, paving the way for patients and healthcare providers to work together to help patients. In recognition of her many contributions to healthcare, Tanny received the Alberta Medical Association Medal of Honour in 2011. This achievement is a source of great pride for the Nadon family.
Tanny has been missed by many since she passed away in 2016. Her legacy as a selfless volunteer in the areas of patient advocacy and mentorship lives on and continues to inspire us all! Beyond her organizational talents, Tanny was described personally as fun, humble, and the epitome of a caregiver. On more than one occasion, Tanny's kindness was extended to patients, separated from their family and friends while traveling for treatment, whom she shuttled between airport and treatment centres. She even supplied personal items to a patient whose stay was unexpectedly extended. As the beloved matriarch of a family of seven that expanded to include grandchildren and great grandchildren, it is amazing that Tanny had the time to contribute so much to so many!
THE TANNY NADON CAREGIVER AWARD
The CSPA honours the memory and example of Tanny Nadon's life by recognizing those who go above and beyond in their role of caregiver to an individual impacted by a skin, hair, or nail condition.
Tell us about a caregiver in your life who has made a difference!
How to Nominate a Caregiver:
To enter, please complete the online nomination form.
Nomination Criteria:
The Canadian Skin Patient Alliance invites you to nominate your friend or family member for our Tanny Nadon Caregiver Award & Spotlight.
Between the dates and deadlines listed below, send us your nominations for an award winner. We'll choose a recipient based on the following criteria:
Their dedication to providing assistance goes beyond tending to physical needs and who models compassion and strength; an individual whose efforts have an extraordinary effect on those for whom they care

Their problem-solving techniques

Their use of services available to patients or caregivers in the community (for example, attending support groups or information sessions to help manage the condition, get to medical appointments, etc.)

Their approach to staying educated about the condition
Award & Recognition:
The recipient of the Tanny Nadon Caregiver Award will receive:
Tanny Nadon Caregiver Award Certificate

Embroidered CSPA blanket
The recipient will additionally be featured on CSPA's communication channels in our SPOTLIGHT: A Caregiver's Story series. The recipient will be interviewed, if possible, with the patient to whom they provide care or with the individual who nominated them. Their Caregiver Story will be featured in some or all of the following CSPA and other media outlets:
Social media posts

Newsletter article

Website

Short video(s)

Public news outlets (via a CSPA press release)
Timing:
Nominations for the Tanny Nadon Caregiver Award are invited 2 times per year. The nominations will be evaluated by a CSPA committee with up to 3 recipients chosen per year (1 per round).
The following is the projected 2022 schedule* for nomination deadlines and notifying award recipients:
Round 1
Nomination Deadline: April 3, 2022 (12 midnight ET)
Notification by: June 2022
Round 2
Nomination Deadline: October 23, 2022 (12 midnight ET)
Notification by: November 21, 2022
*The CSPA reserves the right to change these dates without notice.
Volunteering with the CSPA
"Volunteerism is the voice of the people put into action.
These actions shape and mold the present into a future of which we can all be proud."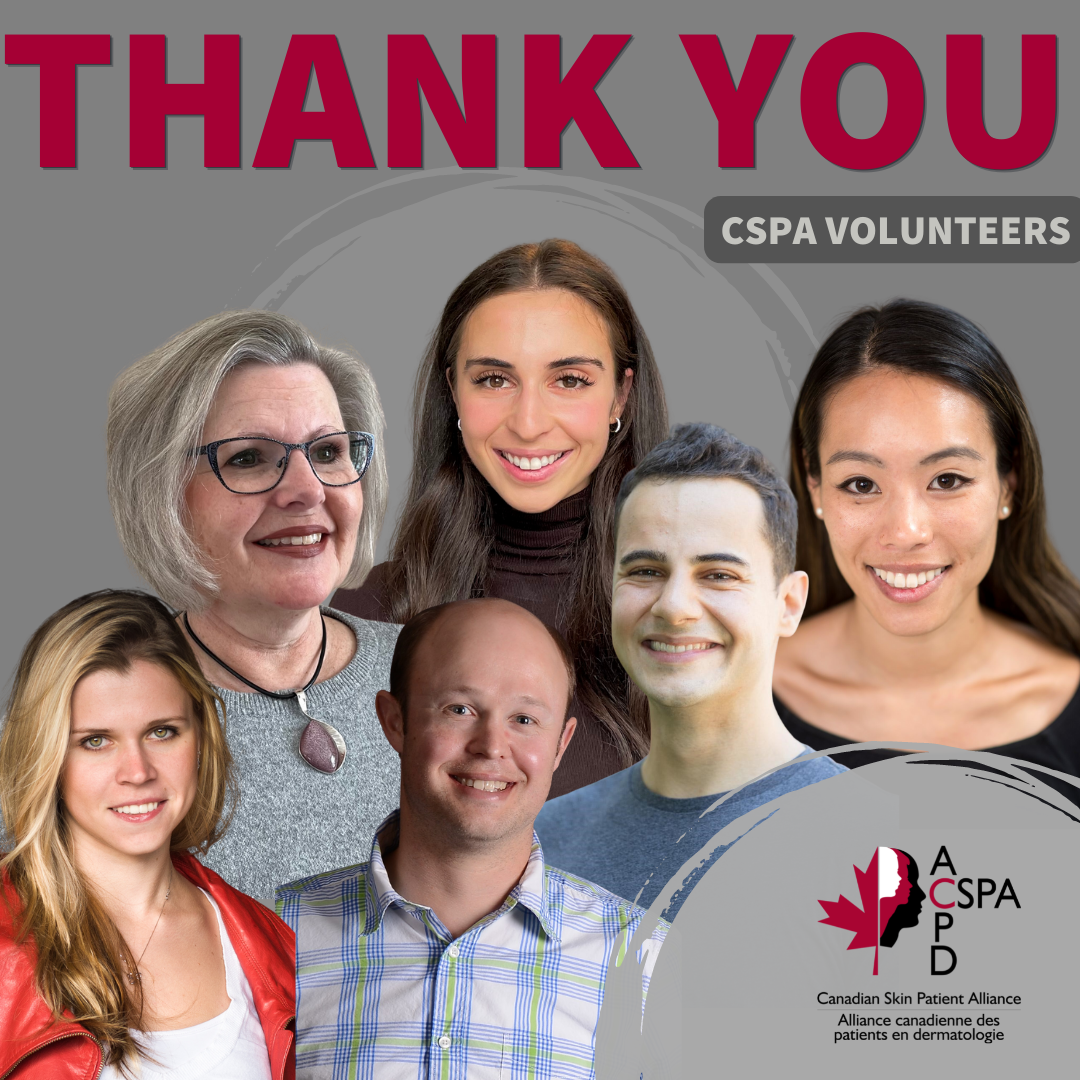 People look to CSPA to gather information, to understand, to speak for patients, and to put plans into action! As a national organization, focused on skin health as a whole, that is a pretty tall order. That is why the staff of CSPA relies on a multi-disciplined team of volunteers to stay informed and proactive about developments in dermatology, research, legislation, medication access, education, advocacy and how skin patients are being affected.
At CSPA, we know the value of our volunteers, and we welcome new and returning individuals who wish to contribute their knowledge and skills to initiatives that benefit the skin patient community. Administration, goal-setting, finance, medical advice, and informative writing are just some of the ways volunteers make a difference. If you are impacted by skin disorders or have the desire to learn about and advocate for our patient community, we want to hear from you!
We invite you to have a look at these CSPA volunteer opportunities. If you can envision yourself in one of these roles, please contact us at This email address is being protected from spambots. You need JavaScript enabled to view it. to learn more about becoming a part of CSPA. To read about some of our volunteers' experiences, click here.
Board of Directors
Members of the Board of Directors ensure that the organization is moving forward and achieving its mission and vision. Members oversee the organization's operations and financial well-being. They help guide the organization by establishing CSPA's strategic direction, ensuring compliance and managing risks to the organization. Board members may also be involved in specific CSPA projects. Board Members must be 18 years of age and are asked to serve for a period of two years, with a maximum of 6 years.
Advocacy Sub-Committee
Members of this sub-committee monitor the public policy landscape at the provincial and federal level as it affects skin patients. They identify opportunities for the CSPA to shape public policy and help implement advocacy strategies and tactics. The Advocacy Committee welcomes those with experience in legislative affairs, legal or grassroots advocacy and those with knowledge of the issues facing the skin patient community in Canada. Approximately 2-3 hours per month will be asked of sub-committee members who volunteer to help develop advocacy materials.
Affiliate Members Sub-Committee
This sub-committee develops strategies to better serve and engage the CSPA Affiliate Member organizations. They brainstorm ideas to improve communications, assess needs and identify potential Affiliate Members. They also provide input regarding CSPA's advocacy strategy.
Communications Sub-Committee
This goal of this sub-committee is to expand social media engagement across Canada, ensure key messages are being shared, promote events and discuss relevant issues that are important to the skin patient community, and stay current with communications trends. Members may choose to provide moderator support on social channels and provide input on the website and other communication tools. If you have knowledge of social media platforms and best practices, strong communication and marketing skills, graphic design skills and creativity, this is a great opportunity to volunteer in support of skin patients.
The Finance Sub-Committee
This Sub-Committee makes recommendations to the Board of Directors about the accounting, financial reporting, financial health and sustainability and related legal obligations of the CSPA. They review annual financial statements, regular financial reports, including revenue and expenditures, fund development, and the proposed annual budget. In addition to being organized and detail oriented, CSPA welcomes those with business, not-for-profit or finance experience to this sub-committee.
Fund Development Sub-Committee
This group develops and revises CSPA's Fundraising Plan and identifies new potential funders and revenue sources for the organization. They provide recommendations to the Board of Directors on funding and identify opportunities to promote the CSPA's initiatives in collaboration with the Communications Sub-Committee. Those with business, not-for-profit or marketing experience are a great asset to this team.
All CSPA sub-committee members serve for a period of two years and can serve for an unlimited number of consecutive terms. These committees meet virtually and may meet in person if it is safe and the opportunity arises.
Medical Advisory Board
The members of CSPA's Medical Advisory Board (MAB) represent a cross-section of experts in the field of dermatology from across the country. Members must be credentialed medical or scientific professionals and will be identified based on their:
Knowledge or expertise of skin conditions and diseases
Area(s) of work or research
Geographic location and familiarity with regional health systems
Demonstrated commitment to patient care, and
Ability and interest to work with patient organizations.
Members of the Medical Advisory Board support CSPA with the provision of medical and scientific advice and guidance related to the organization's planning and decision-making and the development and publication of electronic and print resources, guides and supports ("resources") made available to the CSPA community and others through the CSPA website, Canadian Skin and À Pro Peau magazines, and multimedia communication channels.
The Medical Advisory Board may also be called upon to summarize new scientific publications and provide input into CSPA's strategic direction as it relates to medical issues. Members recommend names of other experts, act as a resource to clinicians in developing a clinician input submission to the Common Drug Review (CADTH), provide advice regarding research directions and may act as an expert resource for media interviews.
Individuals will be invited by the CSPA to participate on the Medical Advisory Board and will be asked to serve for a period of two years. They can serve for an unlimited number of consecutive terms.
Contributors
CSPA enlists the talents of healthcare professionals, medical students, and experts in various fields to write or summarize educational content related to skin health. Volunteers may be involved in special projects that require the drafting of educational pieces, research summaries, resources and tools for skin, hair, and nail patients across Canada. They may also contribute content to the CSPA website, its social media channels, and to CSPA's publication the Canadian Skin and À Pro Peau magazines.